Year 6
Welcome to the Year 6 homepage
Teaching Team: Mrs Hopkirk, Mrs Cox, Mrs Ali and Mrs Palmer
On the Year 6 page, you will find our latest class updates so please check in regularly to see our plans and for any important dates!
If you have any queries or questions, please feel free to email admin@stgeorgesce.worcs.sch.uk or send a note in with your child and we will get back to you as soon as we can.
Important Information
In Year 6, homework will be set every Thursday and it will need to be completed by the following Tuesday. If you get stuck on your homework, speak to one of your teachers as soon as you can and we can help! Homework club will be held every Monday lunchtime.
This half term, our PE day will be Monday. You need to come dressed in your school sports kit.
Swimming will be each Wednesday morning so please remember your swimming kit!
Useful Documents for Parents
Questions for Reading with your Child
Tuesday 19th October
Weapons Research
Use these links to research the advantages and disadvantages of weapons used and invented in WW1.
https://www.bbc.co.uk/bitesize/topics/zqhyb9q/articles/zs666sg
https://schoolhistory.co.uk/modern/weapons-of-world-war-i/ (scroll down to the info)
Topic
This term our big question is 'Why is the First World War known as 'The Great War'? We will be learning about the war that changed the world from 1914-18. We will develop our historical skills by looking at a range of sources to learn why the war started, where the soldiers fought and what conditions were like. We will look at the impact of WW1 on Worcester and the importance of the Battle of Gheluvelt. Finally, we will consider the importance of Remembrance Day. In English, we will be reading One Boy's War and War Horse to further enhance our knowledge of WW1.
This half term you need to work on a project of your choice as part of your homework. Here are the ideas to choose from: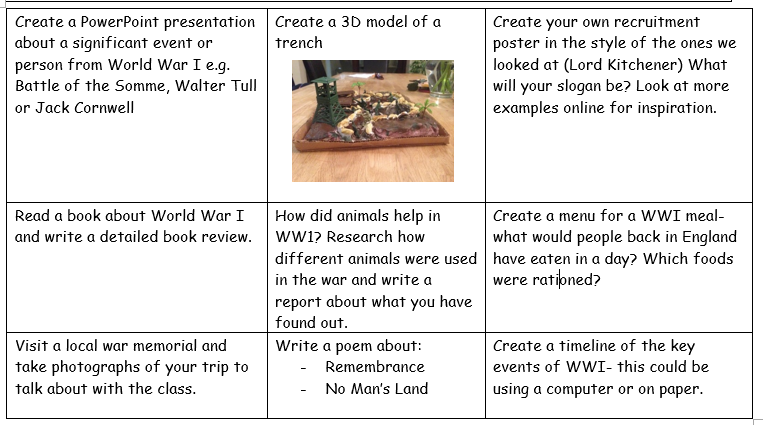 Your project is due on Tuesday 19th October. If you need help please speak to Mrs Hopkirk.
Here are some useful links for research:
https://www.bbc.co.uk/bitesize/topics/zqhyb9q
https://www.natgeokids.com/uk/discover/history/general-history/first-world-war/
https://www.dkfindout.com/uk/history/world-war-i/
https://www.bbc.co.uk/bitesize/topics/zqhyb9q/articles/zndqf4j
https://www.devonmuseums.net/includes/learning/Animals%20who%20won%20Medals%20in%20WW1.pdf
https://www.iwm.org.uk/learning/resources/living-in-the-trenches
Times Tables Games
Use the following links to assist with learning and practising your times tables. These are so important and will really help you with lots of different areas of maths!
https://www.topmarks.co.uk/maths-games/hit-the-button
https://mathsframe.co.uk/en/resources/resource/504/Super-Maths-Bowling-Multiplication
https://primarygames.co.uk/pg2/sumsense/summulti.html
http://www.learnyourtables.co.uk/en/index2.htm
Also, use your Purple Mash account to access more games like Monster Tables
Amazing Work
Have a look below for some of the amazing work from over the course of the year. Year 6 have created some fantastic pieces which show great creativity and imagination.